What Are You Waiting For ?

Triple Your Production !!!

- No Hydraulics

- Sets Up in Minutes

- Increase Production and Safety

- Exclusive Bolt-in "Easy Slide" Knives

- Available throughout the USA and Canada

- Financing Available


.
About Stripper Delimbers
by Stripper Manufacturering President Sam Sessions
HERE

Features HERE
Financing HERE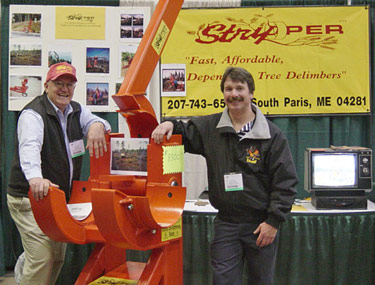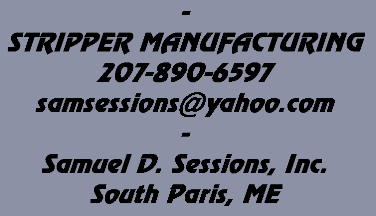 TYPE: Pull Through Delimber

WEIGHT: 1600 lbs.

FEATURES: - Very Affordable.
- Mechanical "no hydraulics" design provides fast delimbing.
- Reversible, bolt-in 'Easy Slide" knives can be easily sharpened or changed.
- Rugged, lightweight head is easier on equipment.
- Maintenance is easy and
inexpensive.

CAPACITY: - Accepts 15" tree and will close to 3 1/2".
- Designed for fir, spruce, hemlock, pine, and similar species. Also works well on smaller hardwood species.

OPTIONS: - Comes complete with an adapter plate for use with your trailer, slasher, or other skid.
- Also available with the Stripper Chassis, featuring an
extendable tongue.


Stripper Delimbers are the Most Cost Effective Delimbers Anywhere
All prices are FOB South Paris, Maine (Subject to change)

- Complete STRIPPER head with short swivel base and adapter plate - $ 9,400.00

- Complete STRIPPER head mounted on the extendable STRIPPER CHASSIS -
$ 13,900.00

- All STRIPPER parts and accessories are readily available.